EarthCheck is a benchmarking certification and advisory group for travel and tourism. Since 1987, EarthCheck have helped businesses, communities and governments to deliver clean, safe, prosperous and healthy destinations for travellers to visit, live, work and play. EarthCheck's approach has been to help operators break resource challenges into manageable actions that can be taken forward by management …



TCO Certified is an international sustainability certification for IT products and includes a wide range of criteria ensuring that the manufacturing, use and recycling of IT products is carried out with regard to environmental and social responsibility.
TCO Certified combines requirements for social responsibility at the facilities where the product is manufactured, user safety and ergonomic …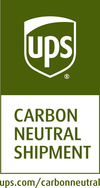 The UPS Carbon Neutral shipping label indicates that UPS customers have offset the climate impact of the GHG emissions produced by the transportation of that shipment. UPS calculates the emissions and purchases carbon offset credits equivalent to the GHG emissions created in shipping the package to make it "carbon neutral".
GHG emissions are tracked using the Carbon Neutral Protocol - a …